Business
Give your
business expenses
a
green lining
Introducing the CarbonPay Business Ctrl debit card, the planet's most impactful business payment card.
Business expenses are an inescapable part of business operations; but they have a green lining when you choose to use CarbonPay Business Ctrl. We transform every transaction into meaningful climate action.
CarbonPay Business Ctrl is the new way to pay that makes everyday climate action simpler by automatically tracking and offsetting CO2 with every transaction.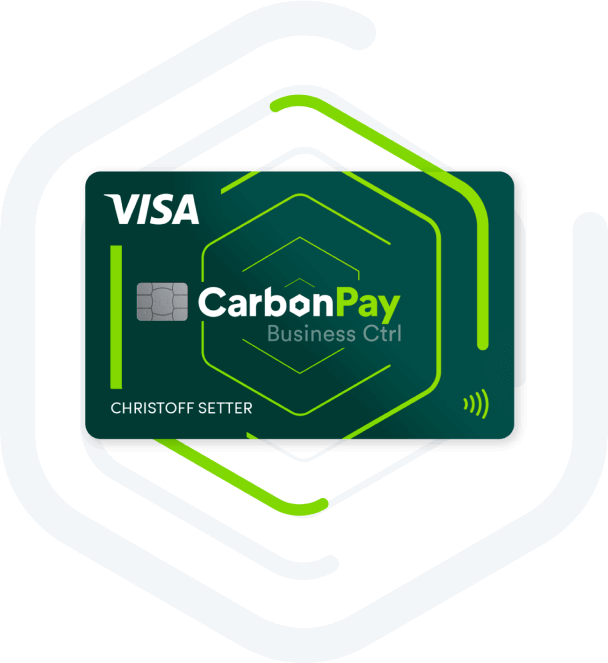 Make a
tonne

of difference

Your business can do extraordinary things for the planet. Your team's regular spending can add up to a world of good. When measured on an annual basis, paying with CarbonPay can help your company reach their green goals.
Carbon Offsetting

Automatic climate action

Automatically offset 1kg of CO2 for every $1.50 your team spends, at no extra cost.

Carbon Footprint Tracking

Track your impact

Track the carbon footprint of each purchase in real time, powered by our partner ecolytiq. Empower your business to understand the environmental impact of your business' spending behaviour and see what department, project and category has the biggest carbon footprint.

Accounting Integration

Our systems talk to your systems

Save time and the planet when you sync your business accounting software with CarbonPay.

Plug in. Sync up. Simple.

Receipt Capture

Upload receipts in a snap

Streamline your expenses and speed up your expense-management process with digital receipt capture and automated reconciliation.

Manage your Impact

Stay in Ctrl from your dashboard

See your impact, add funds, create cardholders, allocate cardholder balances, set transaction limits, add departments and projects all from your dashboard. You're in ctrl.

Download the App

Climate action in your pocket

Take climate action with you everywhere. Upload receipts on the move, see statements, manage cardholders and cards – everything you can do from your computer, just in the palm of your hand.
A card for every wallet
Give yourself one less thing to remember when you add your cards onto your phone's digital wallet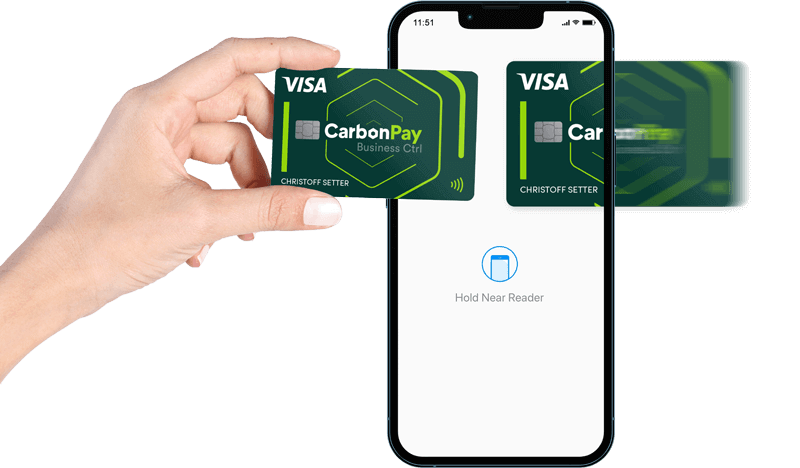 Virtual cards
Instantly setup and issue unlimited virtual cards, access them on your dashboard and pay plastic free. Give each card an ID to further organize your spend and ctrl your security.
Physical cards
For all those other times when your digital card is not accepted we still offer the good old traditional physical card.
One-time-use cards
For the freelancer or employee who needs to make a single purchase instead of maintaining a balance, we have a card for that too. No more petty cash or sharing office payment card details.
Dive into the dashboard
Dig in deeper. Explore more of the CarbonPay
Business Ctrl dashboard
Dashboard
Impact
Transactions
Cardholders
Statements
My wallet
Notifications & My Tasks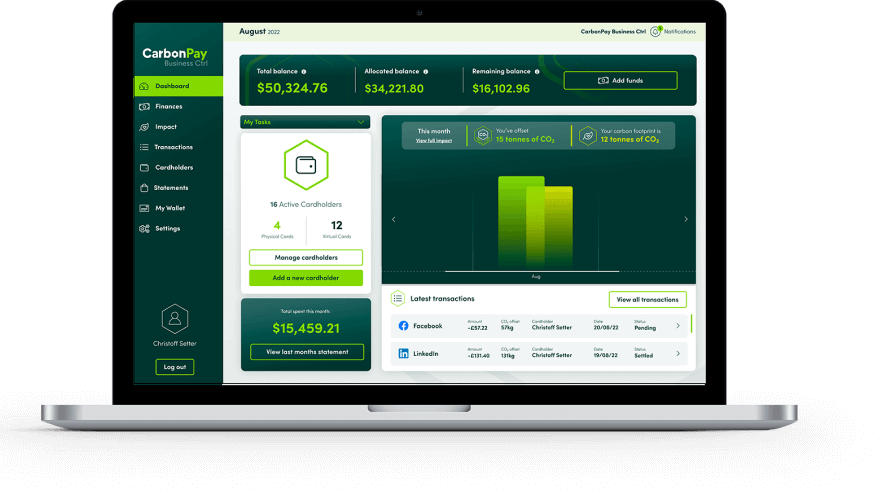 1
Dashboard page
Capture every corner of your Business Ctrl account on your dashboard homepage. Track everything from your carbon footprint to your total spend, to your most recent transactions, all in one central spot.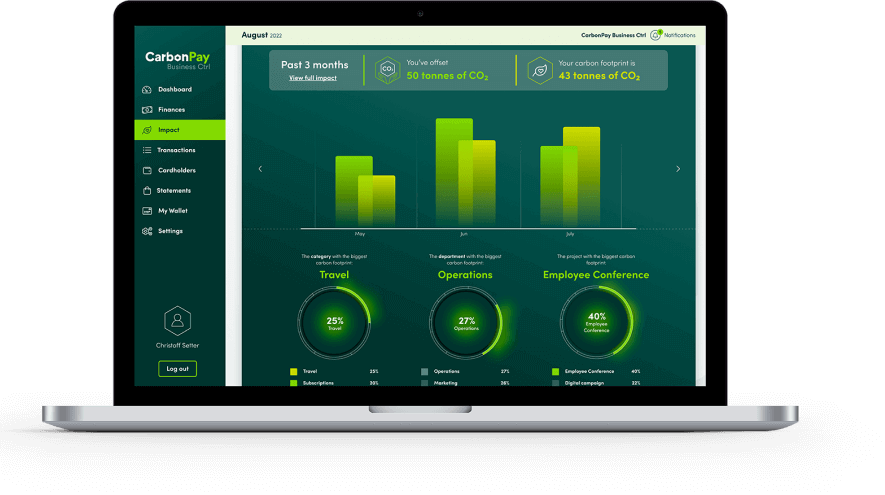 2
Impact page
Track your business' carbon footprint in comparison to the tonnes you've offset. Break down your impact even further into categories, departments and projects to further capture the biggest carbon culprits.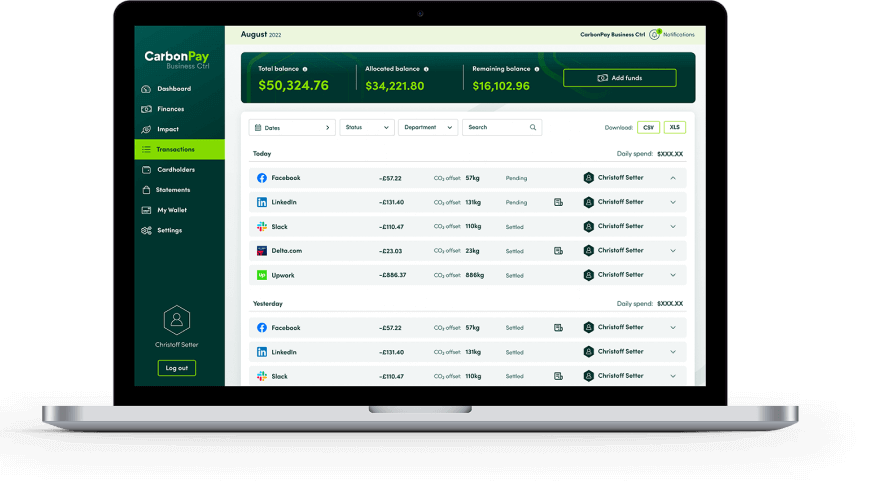 3
Transactions page
Save stress and time and remember to upload the receipts from your transactions. Looking for something specific? Narrow your search based on a specified date range, status, or cardholder name and merchant.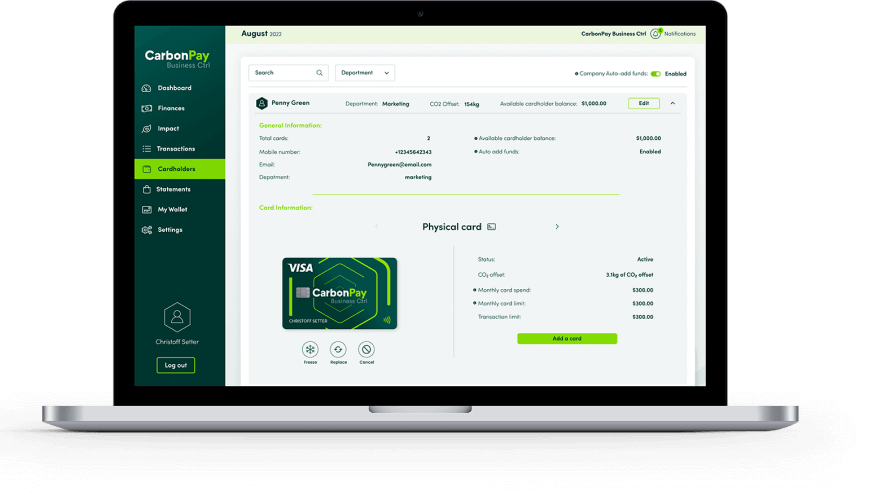 4
Cardholders page
As an admin, whether you need to create or add funds to a cardholder, change their details, create and freeze cards or see all those specifics in a snapshot, you can stay in ctrl of all those specifics here.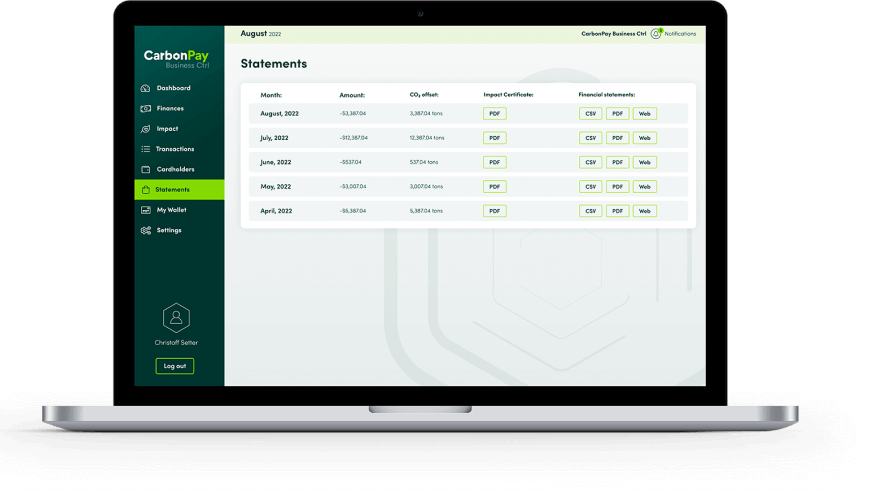 5
Statements page
After your first month of transacting, collect and download all of your past financial and impact statements.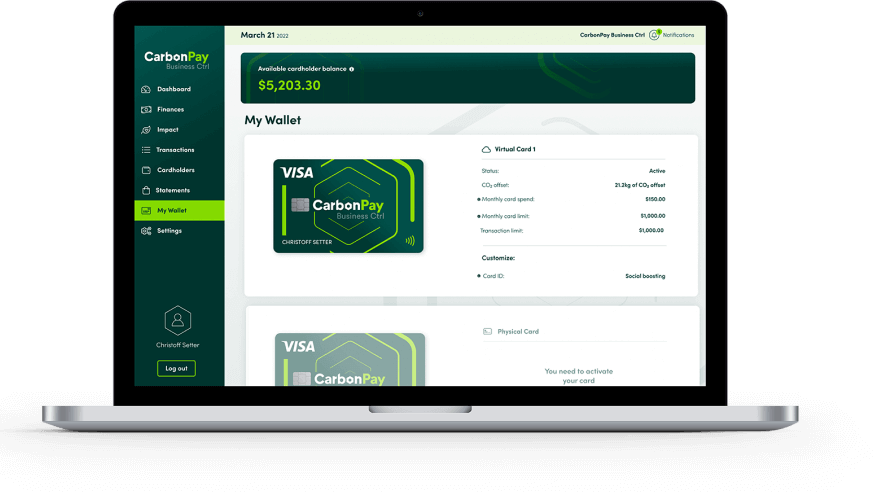 6
My wallet page
View all the cards linked to your personal account! Set custom IDs to designate specific purposes to your cards and set an email alert to be sent whenever your cardholder balance drops below the specifics entered.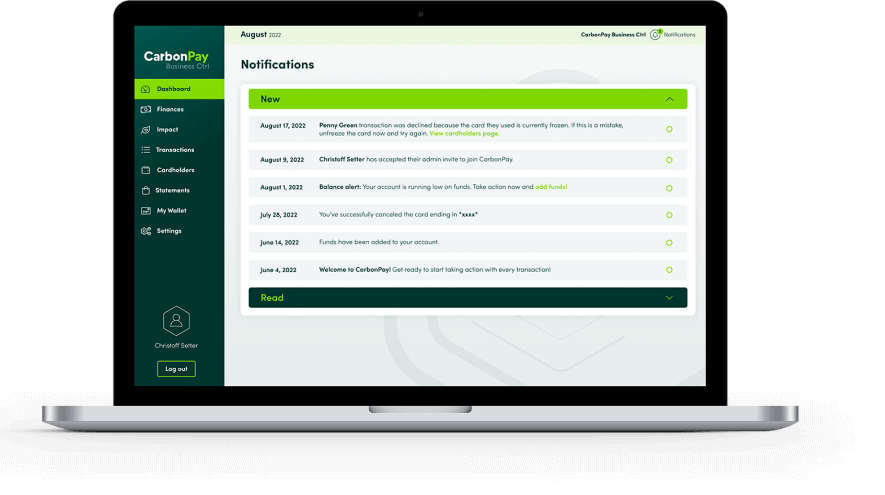 7
Notifications & My Tasks page
Stay in the know through your Notifications and My Tasks. We'll send you a notification when something has changed to your account and My Tasks will appear when there are actions waiting.
We can't afford not to act
Good for your business, even better for the planet
We pride ourselves on being simple and transparent and have made it so that our pricing plan coincides. Scale our platform to your business and add as many or as few people as needed, paying $5 a month per cardholder. With this fee, you gain access to an entirely new sustainable ecosystem.
Sign up today and start making an impact
At your service
We are Here to help and support you on your
journey to a greener future