Axis
Rest your
business
on our Axis
The planet's most accurate, automated &
extensive carbon accounting, supplier analysis
& benchmarking platform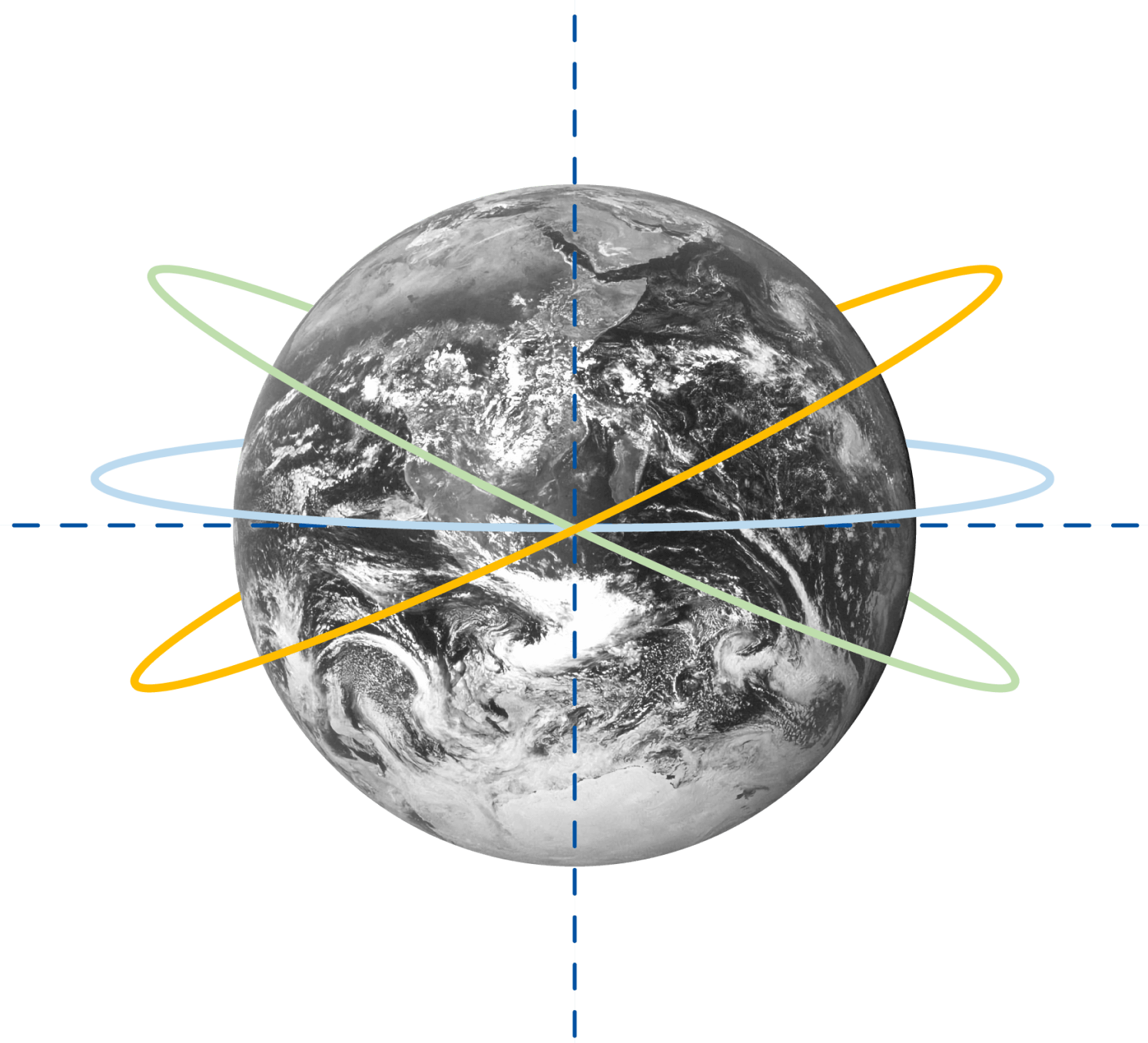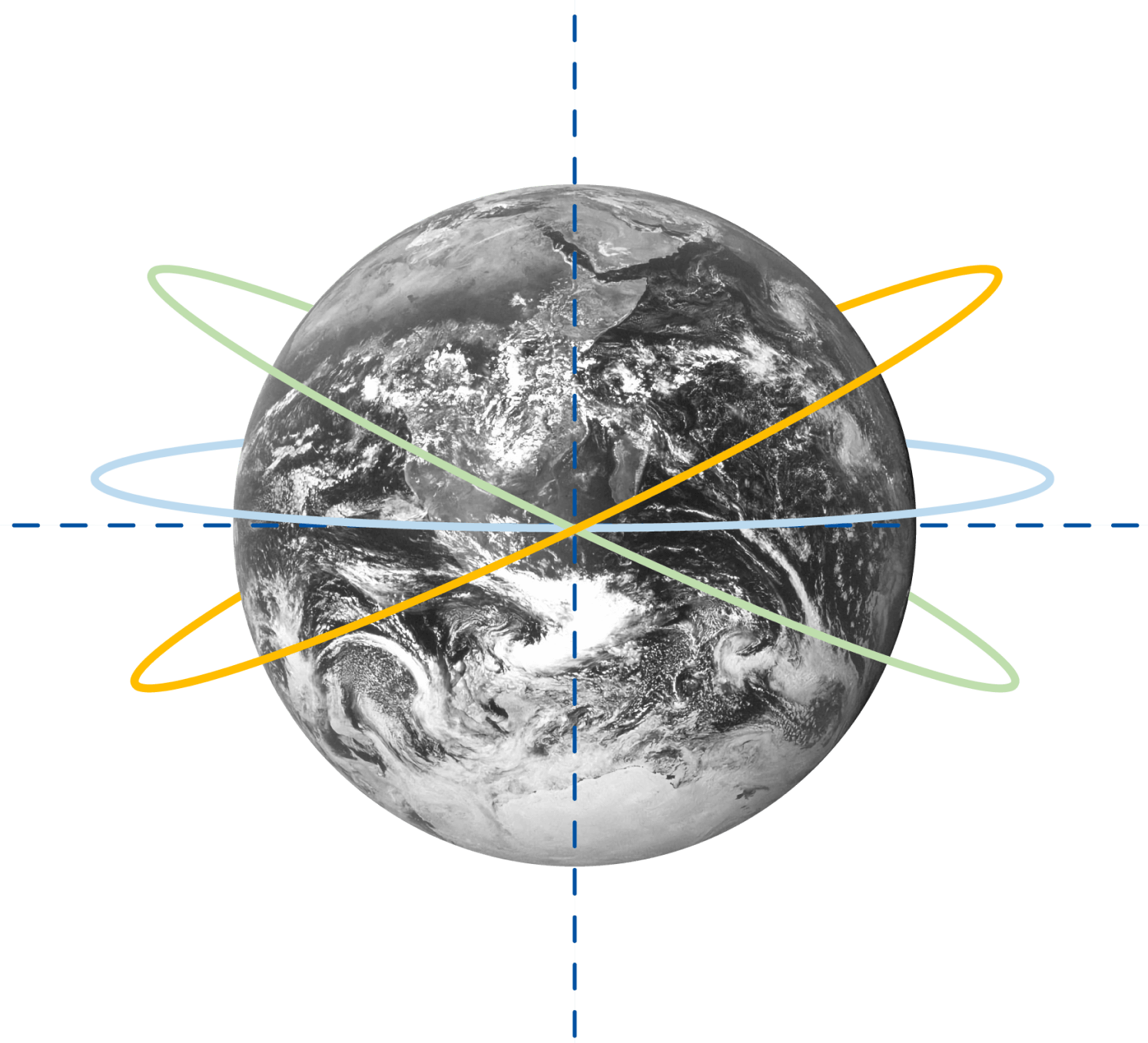 Global Data For a
Global Problem
Calculate the carbon impact of your transactions from over 250MM suppliers around the world
to measure, manage and report the CO2e footprint of your entire supply chain.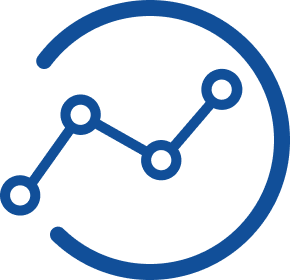 Supplier specific data
Know that our
database and analysis
is the best & most
accurate on the market.
Scope 3 data
Access and understand
your Scope 3 emissions,
alongside your Scope 1
& 2 emissions.
Simple & automated
Have the control and
understanding to make
changes to reduce
your carbon impact.
Business benchmarking
Compare suppliers
with supplier specific
emissions data &
peer group analysis.
Deconstructing difficult data
We automatically calculate and filter your carbon impact so that decarbonisation is your team's central focus.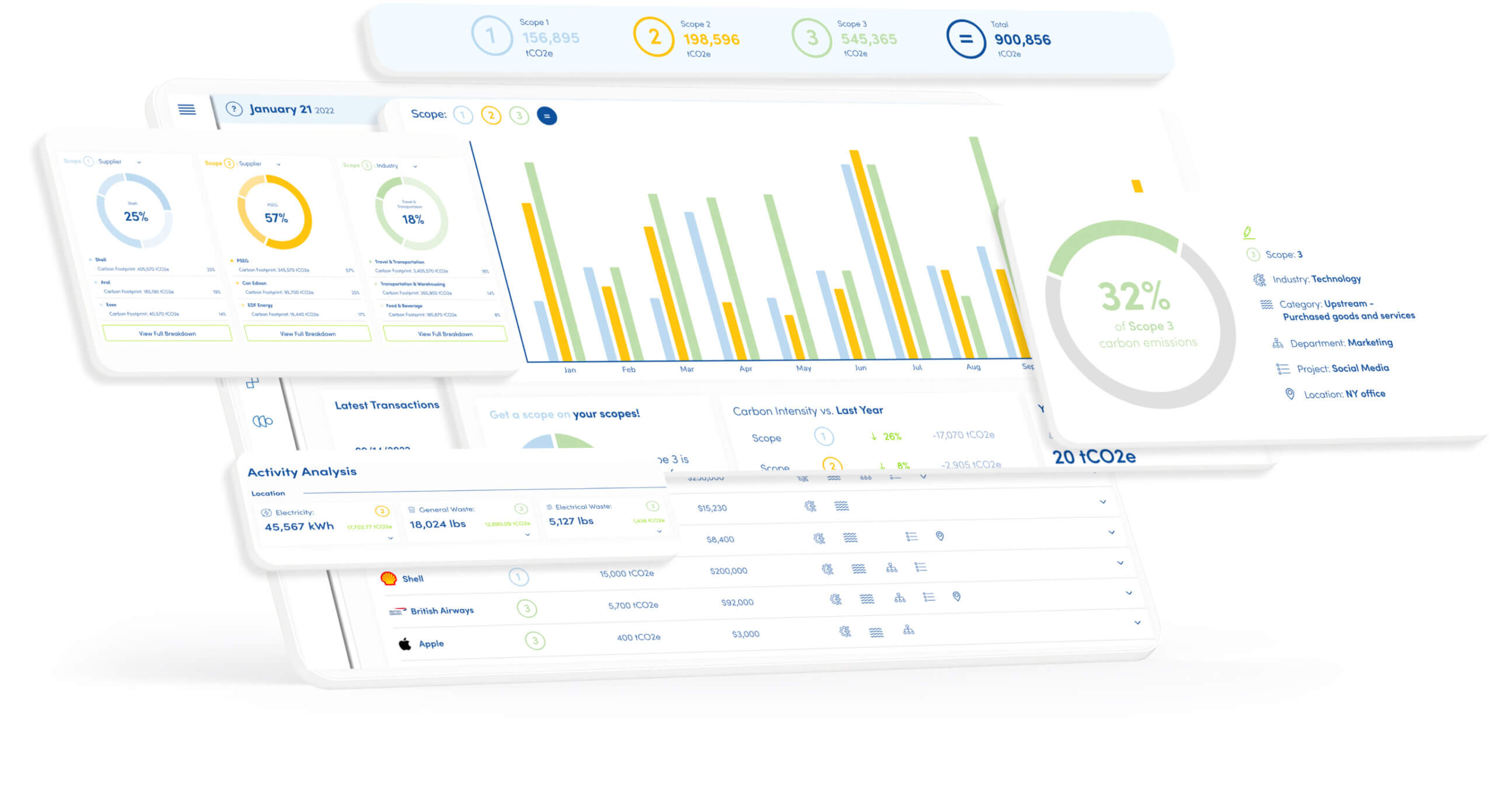 Get a scope on
your Scopes
What sets us apart? CarbonPay Axis captures the data from all 3 emission Scopes, not just 1 and 2. We use both spend and activity based methodology to calculate the carbon footprint and carbon intensity of each Scope.
Value chain emissions often account for more than 90% of a company's total carbon footprint; However historically, they have been the hardest to measure. Therefore, many sources of Scope 3 emissions are often not included within the GHG footprint of businesses.
Utilising CarbonPay Axis shows businesses the full picture of their carbon footprint, whilst saving your team time and expense.
Measure, monitor, set and communicate your targets
Measure, monitor, set and communicate your targets
Magnified Measurement
Scope 1 and 2 are important, but value chain emissions
(Scope 3) are the most critical and difficult to track.
CarbonPay Axis covers 100% of your business emissions.
Disclosing Data
With 250 million data sources (and growing), you can feel
confident that you have the largest, most robust database at
your fingertips.
Tailored Targets
Understand the drivers of your carbon metrics.
Set and monitor decarbonisation targets based on your
business' activity, location, supplier and fleet.
Supplier Stratification
Assess your entire supply chain. Benchmark suppliers and peers
side-by-side with supplier specific carbon emission data, instead
of the standard industry average.
Meticulous Methodology
From your data uploads, Axis uses activity and spend methodology
behind-the-scenes to capture every corner of your business.
Regulatory-Compliant Reporting
CarbonPay Axis calculations are transparent, audit-ready, and
aligned with the GreenHouse Gas Protocol (GHGp).
Scaling Sustainability
We're not only transparent, we're thorough. From a global or
local level, you can understand the data that's relevant to you
and your business.
Step into our orbit
Homepage
Analytics
Transactions
Suppliers
Benchmarking
Reports
Fleet
Locations
1
Homepage
Capture every coordinate of your business' carbon footprint broken down into Scope 1, 2 & 3! See a summary of your suppliers with the most carbon emissions and high carbon intensity so you can tackle your targets!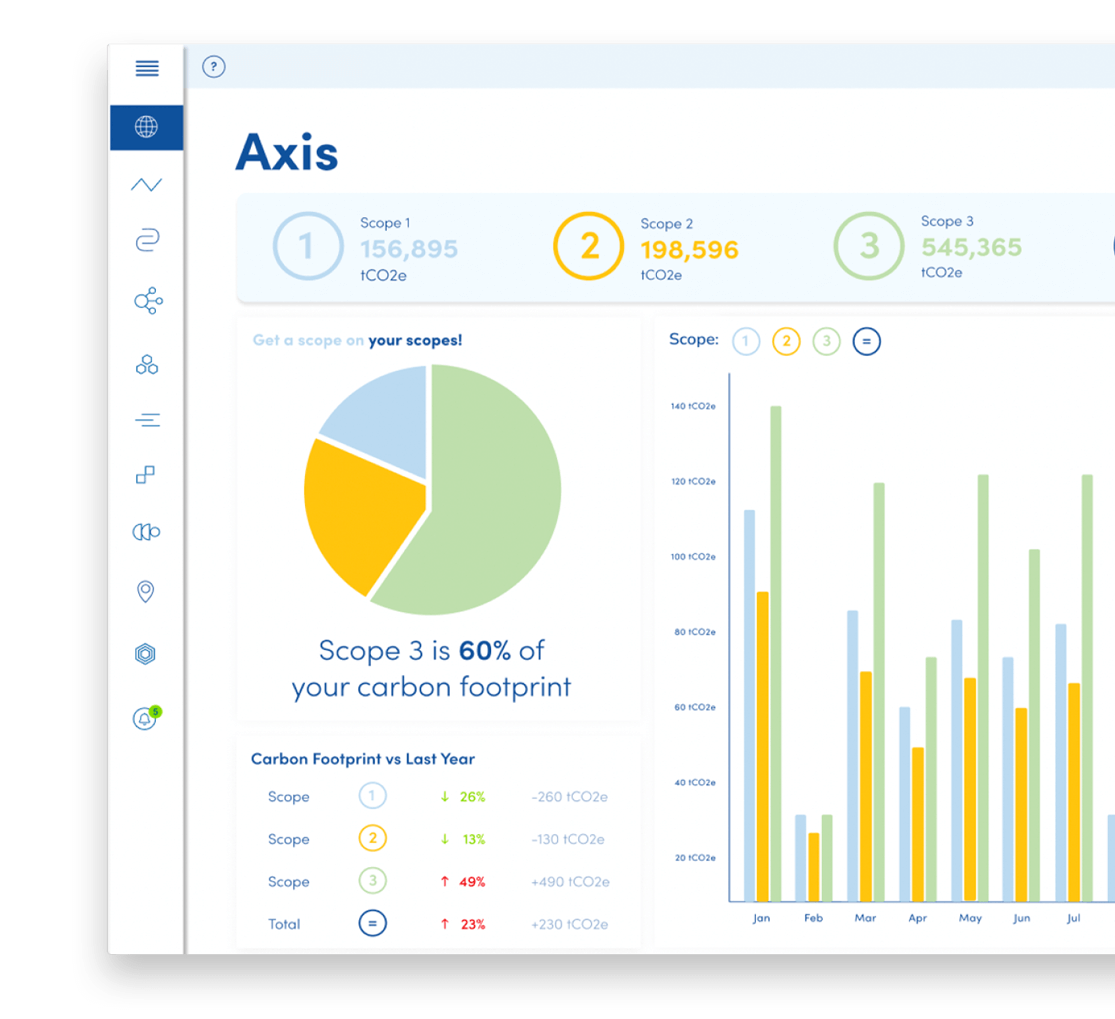 2
Analytics
Understand and track your business' carbon footprint, carbon intensity, and activities granularly. Filter your impact by Scope, date, industry, country, the group level as a whole, a specific subsidiary or even by one location.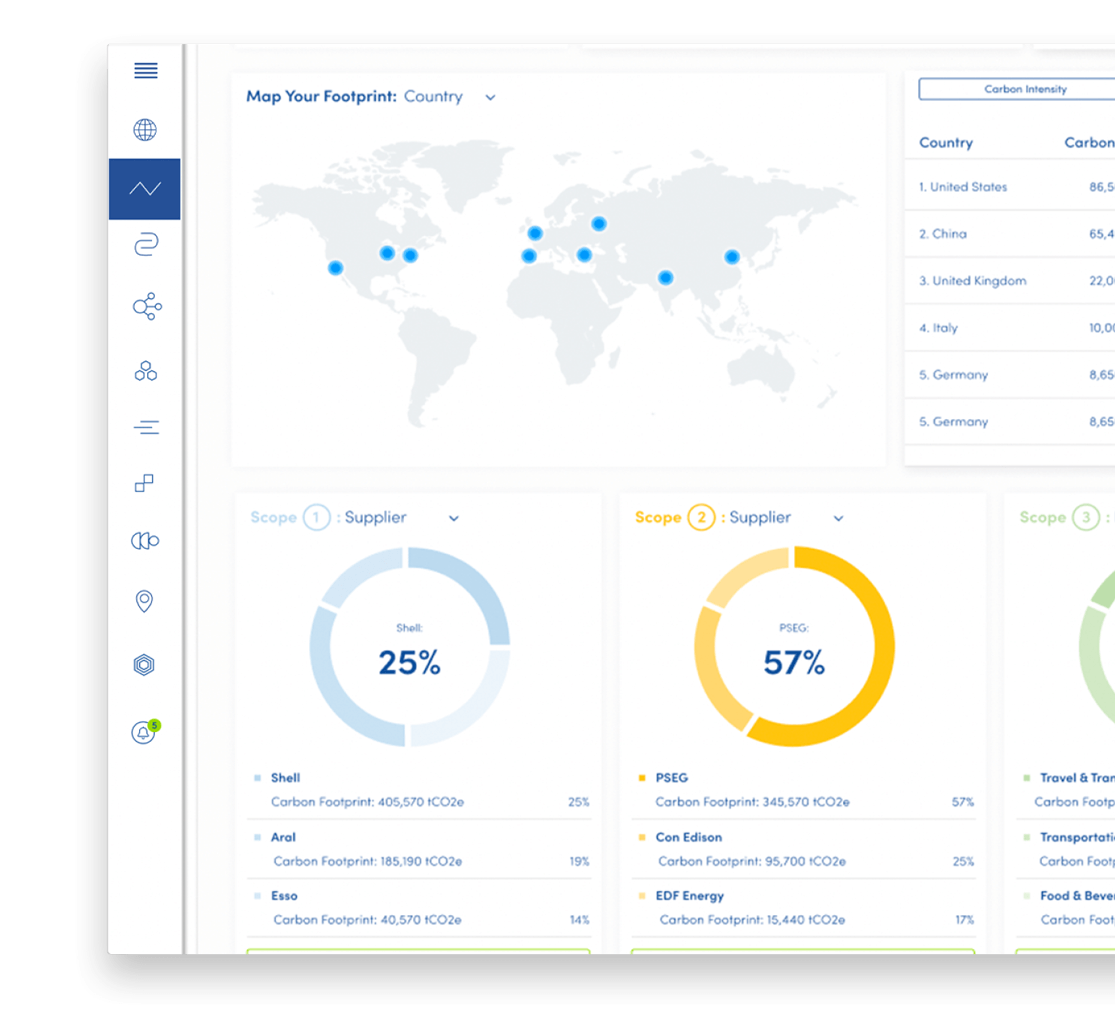 3
Transactions
Categorise and narrow your analysis by your transactions. Tag specific transactions to link back to a location, department, project, and industry so the many moving parts of your business become one clear ecosystem.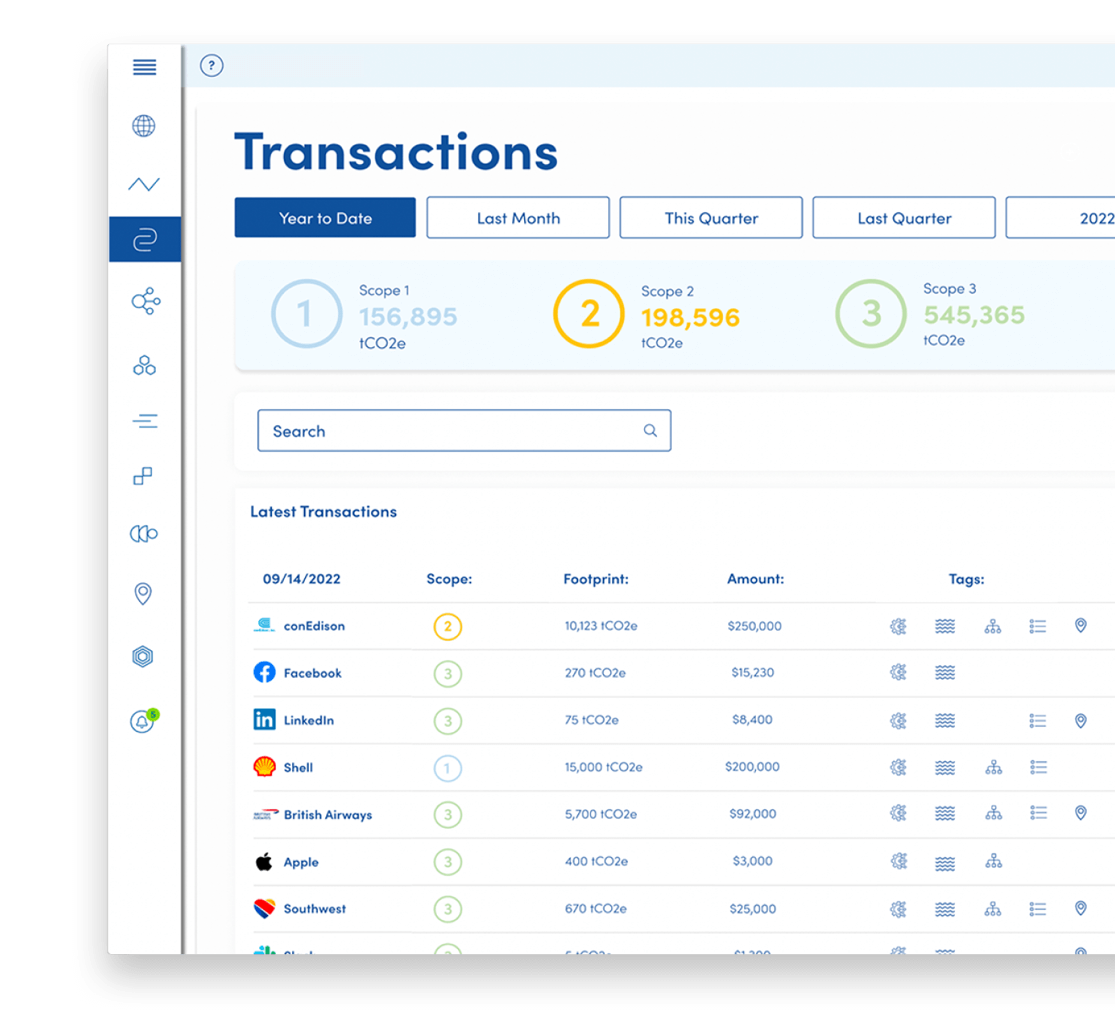 4
Suppliers
Get all your suppliers in one place to understand and compare your relationship with each supplier! Filter by Scope, tag, and date to see the percentage contributed to specific Scopes and total carbon footprint.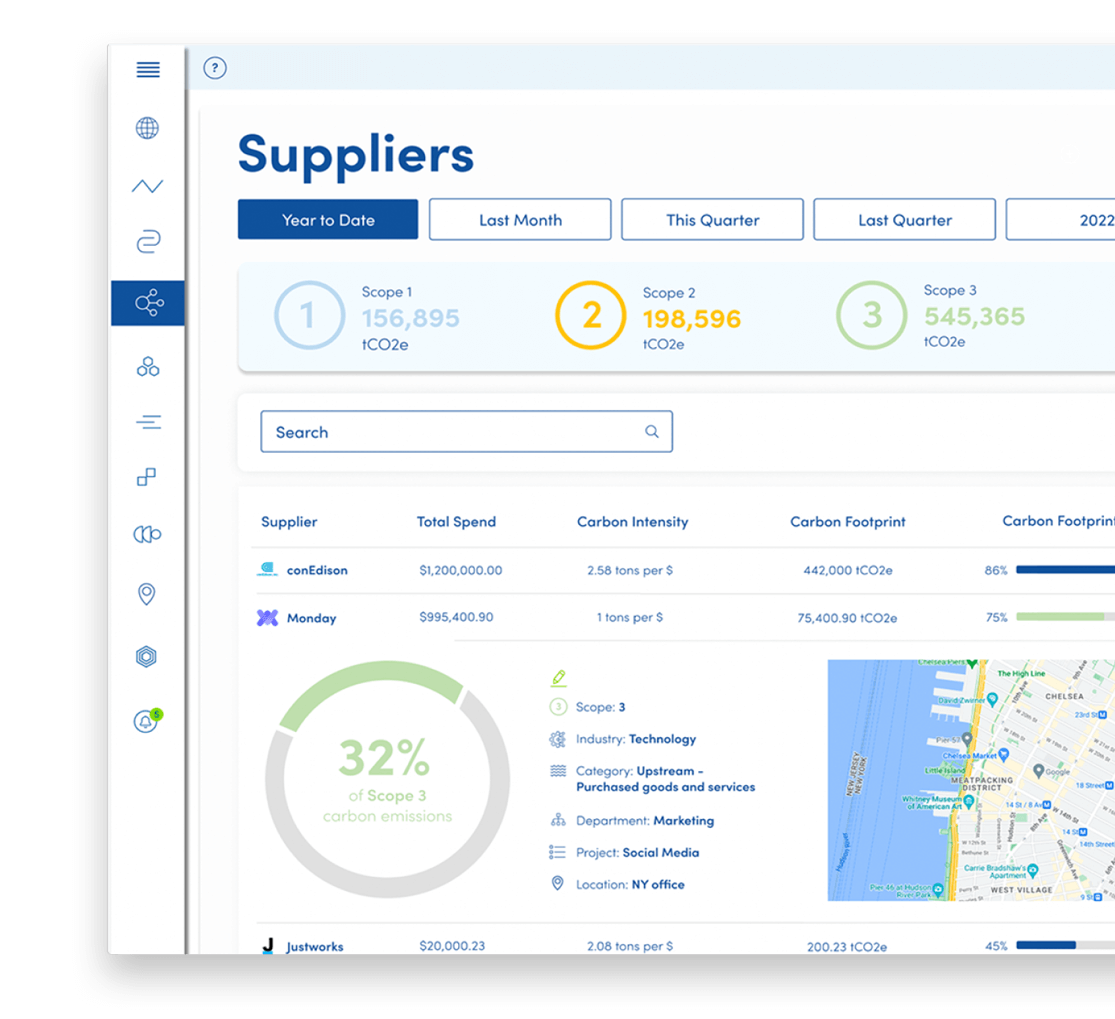 5
Benchmarking
With over 250 million suppliers to search from, we built reducing GHG emissions into selecting suppliers. See potential CO2e savings with specific suppliers and make the best choice for your business and the planet.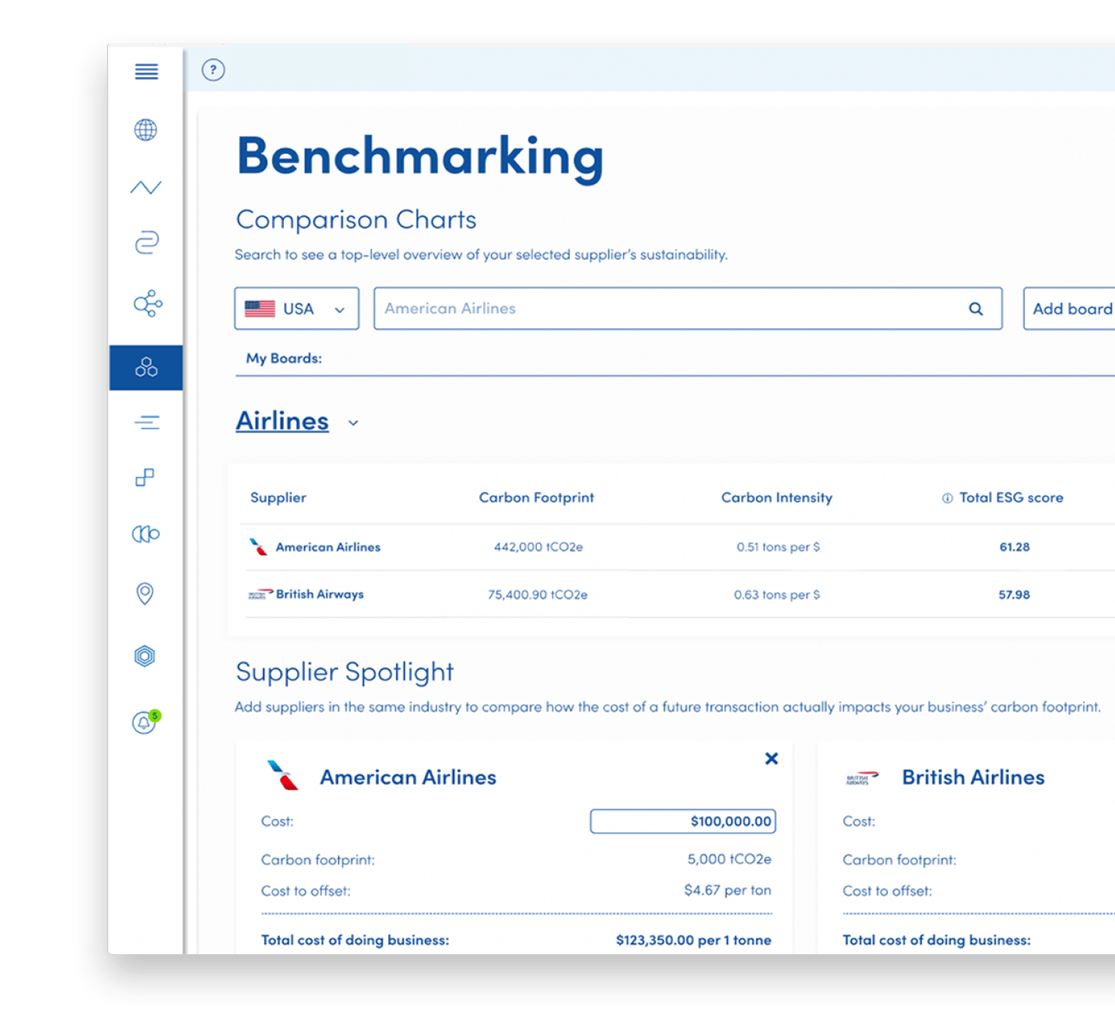 6
Reports
Available by month and annually. Download a carbon accounting report to monitor your business' transactions and activities. Reports are audit proof and can be used for financial and TCFD reporting.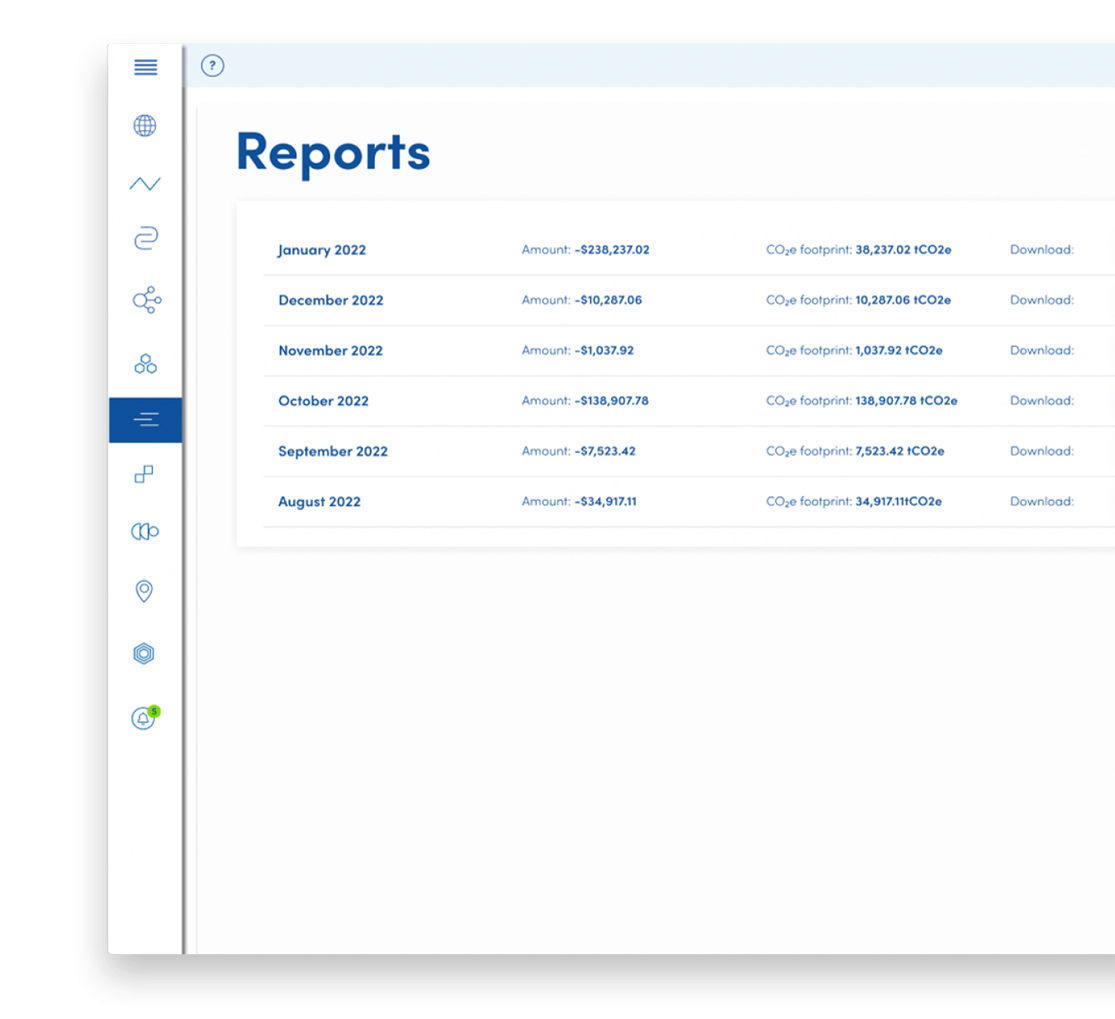 7
Fleet
Travel is an essential part of most businesses. Centralize company vehicles and other provided transportation here to see how the type of vehicle, fuel and distance traveled affects your company's carbon footprint.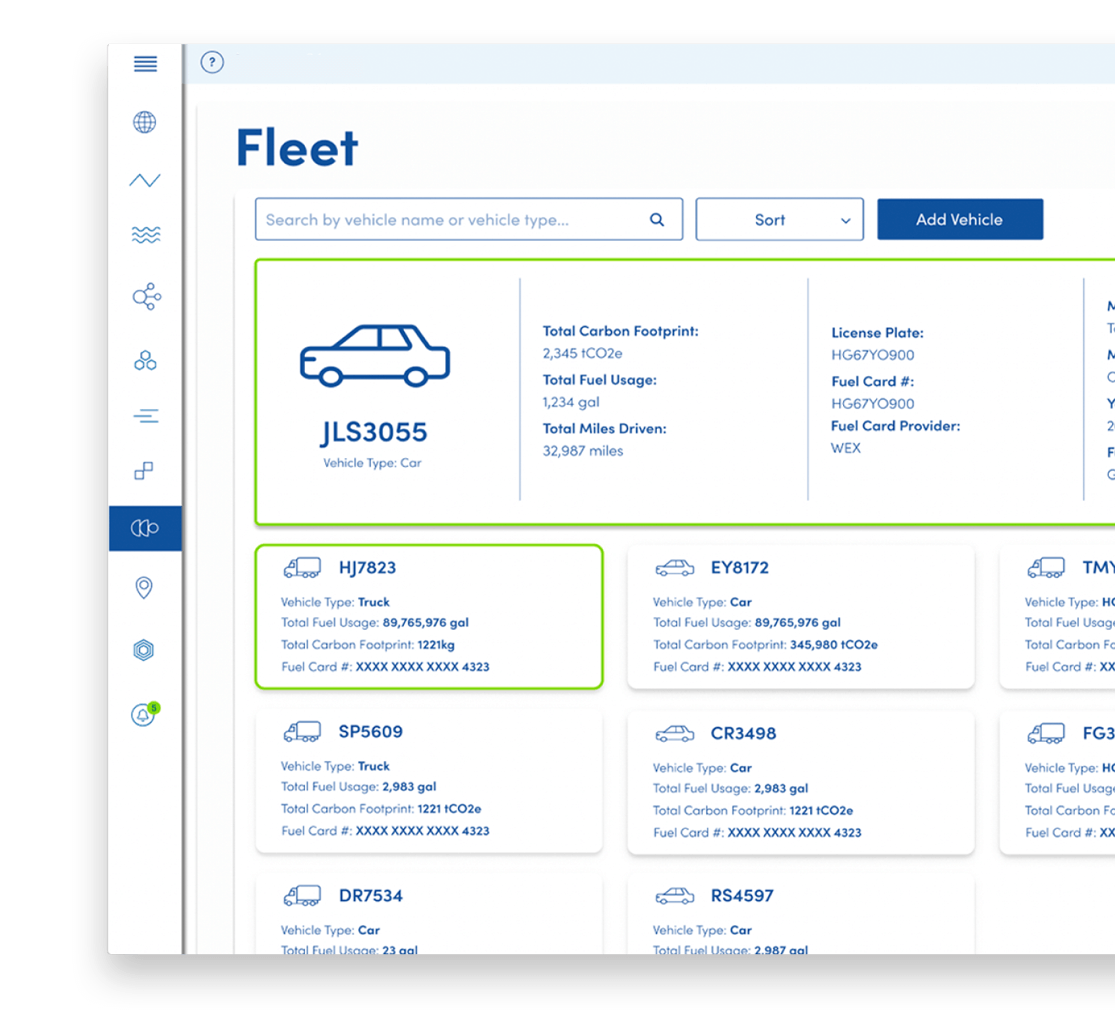 8
Locations
Orient your internal business. Add every office, factory, store and any other place of operation to understand and compare the CO2e footprint of each location. You can then embed best practice or identify outliers.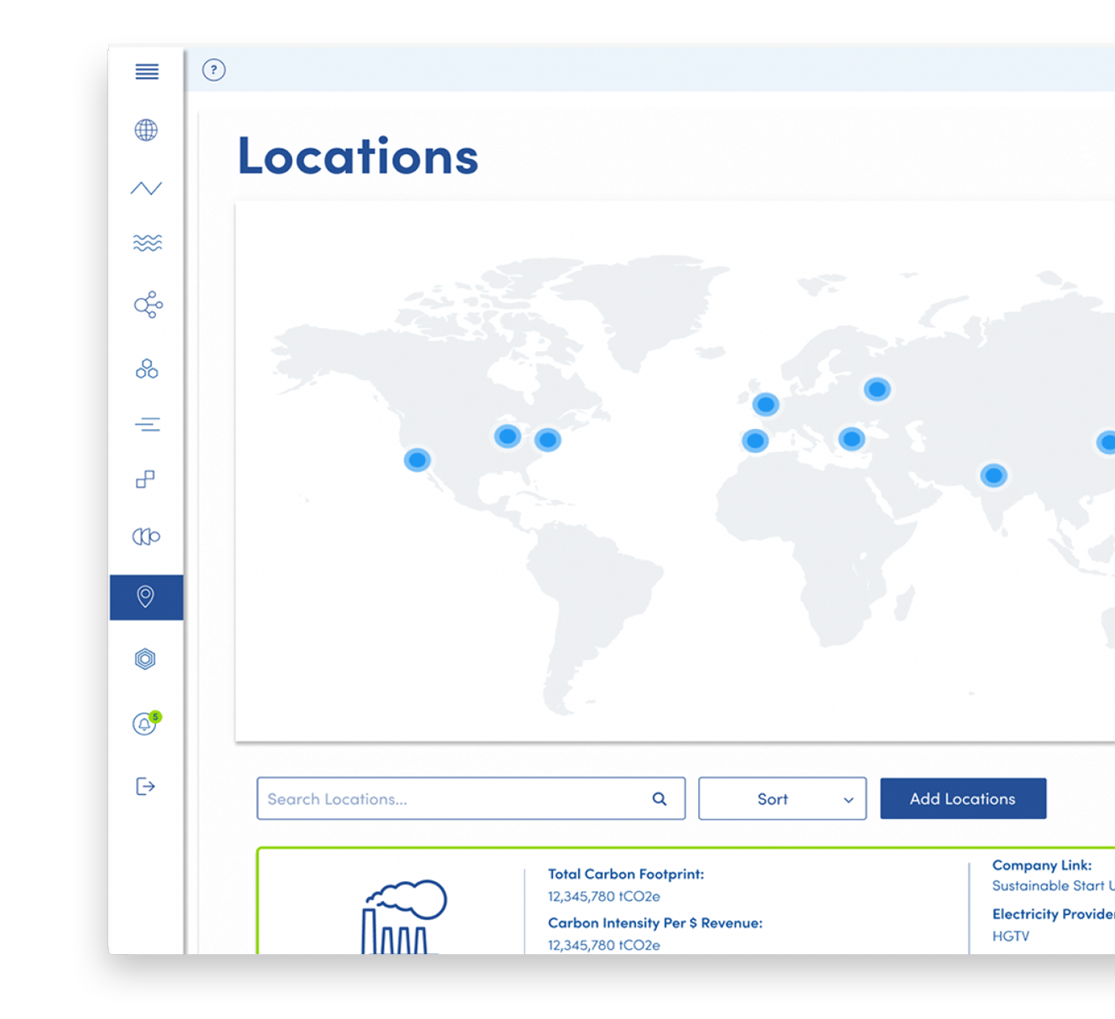 Curious about the carbon
impact of your supply chain?
Ever wonder if there's a better, more sustainable, supplier your company could be using? With over
250 million suppliers to search from, Axis has the most extensive data on the market.
Set your targets,
track your progress
Build on your sustainability strategy with CarbonPay Axis and track your progress
across all Scopes to ensure you are on the right path to reach your decarbonisation targets.
Business carbon accounting is virtually nonexistent, confusing, and time-consuming.
Signing up for CarbonPay Axis, reporting your entire carbon footprint, and setting your first carbon reduction targets.
Understanding your Scope 1, 2 & 3 impact, your business is carbon neutral from calculating and monitoring your ESG.
Your business is carbon positive from calculating and compensating your historical impact with Axis.
+10 Years
Climate Positive
You have reduced your emissions in line with your specific industry and have reached net-zero.
Access your axis for all levels
of your business:
Empower and engage every employee in your business to work together to understand the CO2e of your company at a group, subsidiary and location level.
Group
e.g. headquarters
Engage with your investors and your board
Subsidiaries
e.g. regional headquarters
Engage with your management teams
Locations
e.g. regional offices/ retail stores
Engage with all of your employees
CarbonPay Axis draws upon data from leading
independent bodies in line with best practice


Automatically turn the tide on your carbon footprint
The source of truth and insights for
environmental reporting